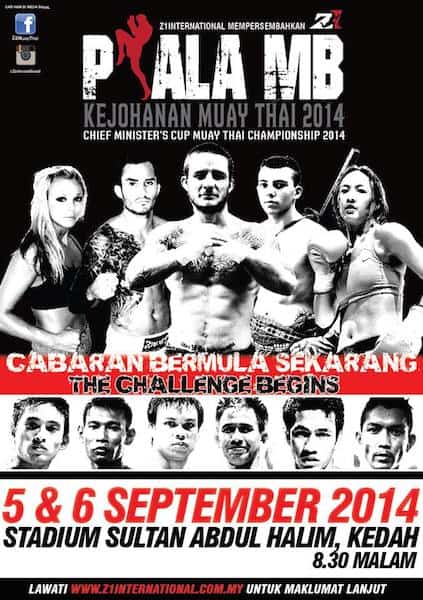 On the 5th & 6th of September Kedah will be hosting one of Malaysia's biggest Muay Thai events of the year- The 'Z-1 Chief Minister's Cup Muay Thai Championship 2014′.
5th and 6th September 2014
Stadium Sultan Abdul Halim, Alor Setar, Kedah, Malaysia
Last years 'Royal Kedah World Muay Thai Challenge' show in Langkawi saw two Sumalee nak muay on the fight card, Parinya and Scottish sponsored fighter, Craig Dickson. Both won their fights in impressive style, putting on a great show for the local crowd. Parinya Sumalee defeated Simon Jen from Sweden with some powerful attacks and a smart defense.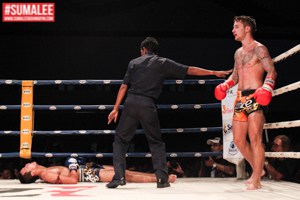 Fight of the evening had to have gone to Craig Dickson who faced the much taller Pet Ubon from Thailand. Pet Ubon took the lead on points throughout the match and used his long reach to keep most of Craig's attacks at a distance. That is until the final round when Craig's undying tenacity and explosive boxing broke through Pet Ubon's defense leading to victory by way of TKO.
After such great fights
Z-1 International
didn't hesitate to contact us for this year's Chief Mnisters Cup and we were able to arrange fights for Craig Dickson and his fellow Scot, Jordan "Deachkalek" Coe. Both of our nak muay will be in 'Super Fights' as the main events on Saturday the 6th of September.
Jordan "Deachkalek" Coe (Scotland) VS Qhalid Saripan (Malaysia)
Craig Dickson (Scotland) VS Bow Suweilek (Thailand)

Qualid Saripan is a Malaysian fighter, best known for his accurate and deadly spinning elbows. Jordan Coe will be thirsty for a win after defeat at the hands of Alex Dass Rey on Koh Samui earlier this month. Bow Suweilek looks like a good match up for Craig with a chin of steel and great all round style but our money would be on the Scot if his
last fight
with Anvar Boynazarov is anything to go by!
What are your thoughts? Let us know on
Twitter
 or give us a like on
Facebook
to get regular updates
live
from Malaysia.